We all know sector rotations are common in real estate markets. Regardless of Seattle commercial real estate cycles a "good deal is a good deal". Revenue growth is what every investor looks for in commercial real estate. Incremental yearly growth of 2-3% is national average and normal in most Seattle lease agreements. An investor should expect 2-3% increases in expenses depending on quality of management and building construction.
A good deal is a good deal in any market.
Now lets look at the industrial sub-sector where Seattle yearly revenue growth has peaked 9% in 2016. Top graph below displays Seattle overall industrial growth and the chart below displays N. Seattle retail growth in price per square foot.
Rare opportunity to observe growth between retail and industrial sub-markets. Interesting to note industrial in Seattle peaked one year earlier than retail. Analytics is not the only approach to finding a good deal, but it certainly helps to know the numbers.
Victory Lane Brokerage offers tailored advisory services as well as joint venture partnership opportunities to our increasingly diverse client base.
Victory Lane brokerage is increasing their pool of advisory talent.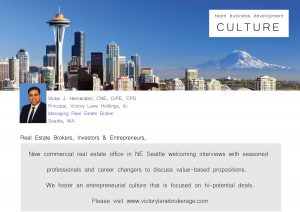 Victory Lane Brokerage can execute a wide range of value-added/opportunistic investment strategies in the greater Seattle, Eastside and I-5 corridor areas.  Schedule an appointment to discuss your next venture at viccipe@gmail.com – (206) 245-0159