Greetings, Summer of 2018 is heating up, so with brevity, I can provide you with insightful  data regarding N. Seattle retail commercial real estate.
Commercial / Multifamily Market Snapshot in North Seattle – Seattle lot pricing has peaked coming out of 2017. Investors should not feel flicked as the market is just stabilizing itself to a new normalcy. 3 to 5% rental increments are still normal lease parameters. Multifamily vacancy rates are anywhere from 0-3%. Commercial vacancy rates are 5 -10% depending. Plenty of well to do renters are presenting applications to lease apartments from increasing tech business hub. Chart below displays lot price, not building interior square footage.
Amazon effect is positive residual for all Commercial Buildings – If Amazon is your tenant you probably have the benefit of a strong and stabilized NOI (net operating income). Attractive lure for establishing high value.  Amazon holds 20% of the commercial space in downtown Seattle/Lake Union area. As you can imagine this creates a top dollar effect in leasing rates and purchase pricing. Since 2010, prices have nearly doubled inadvertently muscling out local premium competition. It should be noted not only Amazon, but foreign investors are paying premium price for Seattle prime real estate. Outskirt city areas have also increased in worth as many retail properties within newly formed transits zones are looking very attractive.
International investors still interested in Seattle Real Estate – 70% of direct foreign investments closed with hard cash. Only 25% of commercial deals into US commercial real estate used debt financing from within USA.
If you are interested in a specific report generated for your property? please contact me at viccipe@gmail.com
Special Note – New Think-Tank Location for Investors, Building Owners, Property Developers, Construction Groups, Lenders, Architects, Engineers, Manufactures and everyday Entrepreneurs.
New location of Victory Lane Brokerage a data driven Real Estate firm.
11532 15th Ave NE Suite 102 Seattle, WA 98125
by appointment preferred SERVING the
Greater Seattle / I-5 Corridor / Eastside
Commercial, Retail, Industrial, New Development
Growth Markets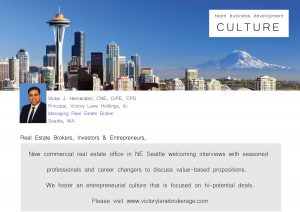 DATA DRIVEN + STREET FOOT WORK = GREAT INVESTMENTS
note – analytics are gathered from COSTAR, CBA (commercial Brokers Association)  and rigorous street reporting.